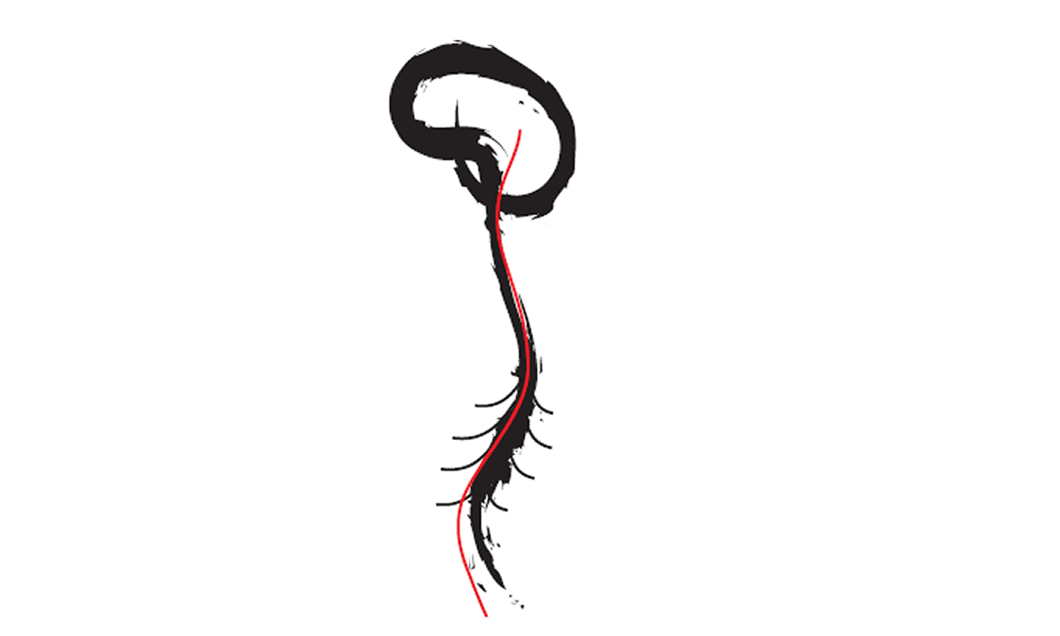 Coronado et al kunne i 2012 vise at kiropraktisk justering av ryggraden påvirker dorsale rot ganglia, som er en del av sentralnervesystemet. Studien kunne også vise at en kiropraktisk justering av nakken førte til redusert sensitivitet både i nakken og i korsryggens facettledd, noe som støtter opp om at en justering påvirker sentralnervesystemet og ikke bare har lokal effekt på det perifere nervesystemet.
(Coronado, R. A., Gay, C. W., Bialosky, J. E., Carnaby, G. D., Bishop, M. D., & George, S. Z. (2012). Changes in pain sensitivity following spinal manipulation: A systematic review and meta-analysis. Journal of Electromyography Kinesiology, 22(5), 752-767).
En studie av Reed et al i 2014 indikerer at kiropraktisk justering av ryggen reduserer smerte ved å påvirke thalamus og nedadgående sentrale smertebaner, mens mobilisering ikke synes å ha samme effekt.
Reed, W. R., Pickar, J. G., Sozio, R. S., & Long, C. R. (2014). Effect of spinal manipulation thrust magnitude on trunk mechanical activation thresholds of lateral thalamic neurons. Journal of Manipulative and Physiological Therapeutics, 37(5), 277-286.
Mohammadian et al utførte I 2004 en studie som viser at justering av rygg påvirker nociceptorer (smerte) og mekanoreseptorer (trykk og berøring) på leddnivå, som fører til endring i sentralnervesystemet på hjernestammenivå og/eller hjernenivå.
Mohammadian, P., Gonsalves, A., Tsai, C., Hummel, T., & Carpenter, T. (2004). Areas of capsaicin-induced secondary hyperalgesia and allodynia are reduced by a single chiropractic adjustment: A preliminary study. Journal of Manipulative and Physiological Therapeutic, 27(6), 381-387.
I 2014 kunne Gay et al vise at justering av brystryggen førte til direkte og målbar effekt på flere områder i sentralnervesystemet (limbiske del av korteks, insulære korteks, motorisk korteks, amygdala, somatosensorisk korteks og periakvaduktal grå substans).
Brain Region

Function

Cingulate Cortex

Emotions, learning, motivation, memory

Insular Cortex

Consciousness, homeostasis, perception, motor control, self-awareness, cognitive function

Motor Cortex

Voluntary movements

Amygdala Cortex

Memory, decision making, emotional reactions

Somatosensory Cortex

Proprio and mechano-reception, touch, temperature, pain of the skin, epithelial,

skeletal muscle, bones, joints, internal organs and cardiovascular systems

Periaqueductal Gray

Ascending and descending spinothalamtic tracts carrying pain and temperature fibers
Gay, C. W., Robinson, M. E., George, S. Z., Perlstein, W. M., & Bishop, M. D. (2014). Immediate changes after manual therapy in resting-state functional connectivity as measured by functional magnetic resonance imaging in participants with induced low back pain. Journal of Manipulative and Physiological Therapeutics, 37(9), 614-627.